READY TO GET STARTED?
Contact us now to get a creative & Conversion Oriented Website
What we do
Empower your business with strategic web development services. We are passionate about crafting engaging, aesthetic, thoughtful design, & quality websites that will make your brand stand out from the rest. 
We got you covered in designing mobile-friendly, multi platform-supporting websites where your business can gain optimal user experience with high-performance in turn also helps to reach the intended audience.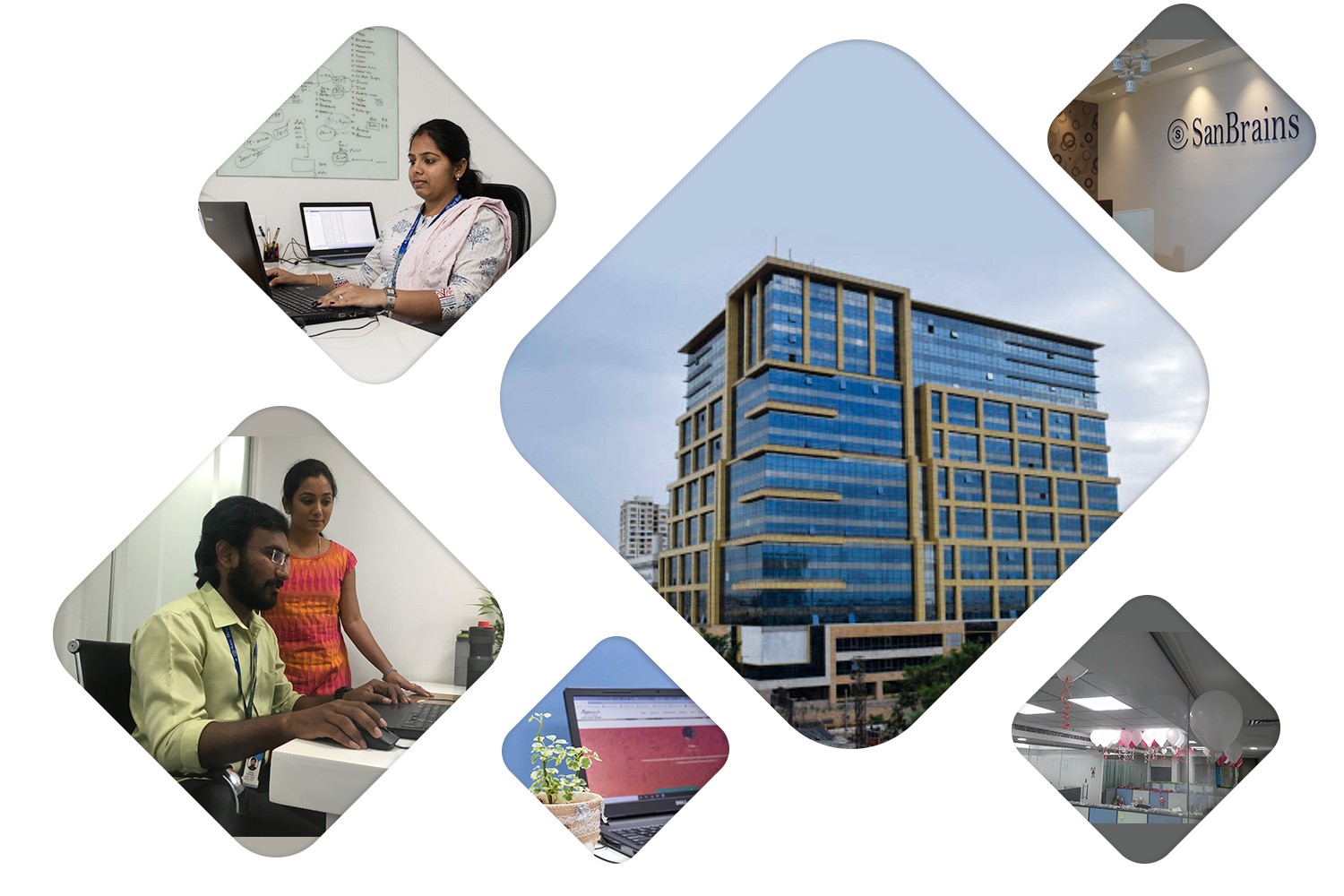 Simple to Complex with the best architecture design. Creation of attractive and user-friendly websites.
Complete cycle of all the web services for the development and management.
We create your brand identity with the best graphic extensions.
Perform actions more easily and quickly at your fingertips.
Web Development Company in Hyderabad
Planning to build your online presence? And looking for the best enterprise that offers web development services in Hyderabad, then no need to search more your search ends here with Sanbrains. We are experienced in successfully building web and mobile applications for business. #1 website development company in Hyderabad, that creates user-centric websites and designing apps that could easily engage the audiences among various profiles of the company. We refer to diverse approaches by providing various options for web development services.
Sanbrains is a renowned digital marketing agency in Hyderabad that creates online attention to your business through customer engaging websites all over the world. We deliver websites with the SEO-friendly, feature-rich functionality, and completely responsive. Sanbrains is a trusted name of website developers in Hyderabad and your coding partner that assures Google-loved and fast web pages. With creative-thinking, we put value to your ideas, requirements through responsive web pages, design, development, conversion, and customization as well. A leading and the best web development company in Hyderabad, that gives assured commitment by our dedicated project managers. 
Let your web designs and development chopped by technology experts team with advanced web development services in Hyderabad. we are acknowledged for providing award-winning website development and designing services, which also received accolades from various big names in the industry. Tie up with the best web development company in Hyderabad to get secure, responsive, engaging, and optimized websites and delight your visitors and also outshine your brand. We create unique-written, error-free, and clean coding that compiles as per the W3C coding standards. One of the top web development companies in Hyderabad, offering both static and dynamic website development services at affordable prices. 
Meet your website goals with beautiful designs, and extend your business reach by choosing the right and reliable website development company in Hyderabad. Our services consist of more than word press, PSD to Html conversion, including Custom Website Designing, WordPress website design, Web Application design, prime web developers in Hyderabad also offers E-commerce website design, Logo Designing, Responsive Website Designing, Landing Page Designing, website development in Hyderabad. Also get front-end, back-end, and custom development solutions to improve your business. The best web development company in Hyderabad, that aims to make strong relationships with our clients by delivering the apt and results-driven solutions for their businesses. 
Take your business to a new level by making use of web development services in Hyderabad. Sanbtrains is a reliable web design and web development partner for you, who have a long-lasting experience of serving clients from various startups to well-established companies. Being a dedicated website development company in Hyderabad and web designing service provider, we render outstanding web development solutions and for diverse business verticals.
We are one of the most promising website developers in Hyderabad, who engross ourselves in the client's project goals to create world-class solutions. Consistent efforts that we put forward in each aspect and our best services, enabled us, website development company in Hyderabad to serve more clients from various industries. We are also mobile app developers in Hyderabad, and our successful project deliveries and building meaningful and effective technology solutions, our clients coined us as the best technology partner and the most trusted website developers in Hyderabad. Striving to become your complete web development and designing solution partner, web developers in Hyderabad, with the aid of most eligible partners who have got technical knack and innovation.  
Since technology evolving over time, businesses have to keep investing in the latest and newer applications, and also have to maintain or enhance their legacy systems. Website developers in Hyderabad also implement contemporary applications that will trim development costs, reduce downtime, and the best web development company in Hyderabad even enhances user experience. Currently businesses are adopting better and more agile ways of designing, developing, and maintaining suitable software. We as the best web designing company in Hyderabad, take complete requirements of the clients and suggest a host of advanced new technologies such as cloud, mobility, and AI.  
Sanbrains– offering web development services in Hyderabad, possess the required expertise team to build custom software applications that provide better customer experience and delivers immense value to stakeholders. We the best web development company in Hyderabad make our business clients quickly transform into long-term partners, as we go deep to understand your business while delivering effective website solutions and as well as digital marketing services in Hyderabad. We map a strategy, build solutions, elevate your business or product experience with the best engagements. Trusted agency of various web developers in Hyderabad and end-to-end enterprise that offers n number of web development solutions to any type or scale of business. We design smart and build fast for all screens and projects. Serving entrepreneurs to global leaders, the web developers in Hyderabad are here to tailor designing and development processes based on your scale and structure.
Our portfolio of outranging Web Development services in Hyderabad include:
Ecommerce website development
CMS Development
Dynamic Website Development
Android Mobile App Development
Static Website Development
Landing page development.
Theme customization
The top of the line web developers in Hyderabad, discover client's specific ideas, creates a blueprint of it and develop a solution, later amplifies resources and maintains your software. Get phenomenal E-commerce web development services from the leading website development company in Hyderabad by having all the latest and advanced e-commerce technologies under one roof. Our e-commerce expert team is capable enough of delivering outstanding e-commerce web development services in Hyderabad by providing you with effective and pleasing outcomes. With complete dedication, we provide guaranteed quality e-commerce website solutions even in less turn around time. We combine e-commerce web development tools with our in-depth web domain knowledge. The best web development company in Hyderabad that renders exemplary solutions that can add value to your business.
One of the pre-eminent web developers in Hyderabad that understand the significance of an e-commerce website and its importance for an online business. Website developers in Hyderabad put efforts forward to create a unique and impeccable e-commerce website for you. We are also SEO company in Hyderabad, that provides a-z digital marketing solutions like content marketing services, PPC services, SMM, SEM services along with web development in Hyderabad. here you can also avail of our services for optimizing your current existing e-commerce websites.
We have a minimum number of email marketing companies in Hyderabad, and we are one of them here you can expect secure and guaranteed services. One of the reliable and top web development companies in Hyderabad that integrate emerging technologies we endeavor to make your current website support additional functions such as contextual search, digital wallets, etc. Web developers in Hyderabad by employing the best SEO techniques, we develop an e-commerce website that could be optimized for search engines and gives better results across various search engines. 
Most of the website developers in Hyderabad, ignore many crucial points,  like whether the site is secure, SEO-friendly or not, scalable facility as per the user's dynamic requirements. Security is one of the key selling points of any e-commerce website. And web developers in Hyderabad, by utilizing stringent security measures like SSL certificates, two-factor authentication, HTTPS, and much more by keeping all these points into consideration we ensure to develop safe e-commerce platforms for your customers. We are one of the most reliable website developers in Hyderabad having hands-on experience of serving thousands of customers worldwide. With our cost-effective solutions, you will get a credible solution, and working as a tool to improve your online business. 
The best web development company in Hyderabad, possess a team of prominent engineers and industry professionals who are apt at building shopping websites using appropriate open source e-commerce technologies. Web developers in Hyderabad are also capable of developing impressive and responsive websites with CMS such as Shopify, Magento, WooCommerce, etc. The page loading time of a website impacts user experience and even lead to customers to leave your website, the website development company in Hyderabad understands this key point and develops quick responsive and intuitive websites that take reduced page loading time. Businesses will be dynamic and always expanding, thus you need a flexible online platform that can meet the needs of future expansion. Go for website development in Hyderabad which offers scalable e-commerce solutions and a platform that fills requirements of your subsequent expansion. 
With our services and supreme quality web development in Hyderabad, you will be getting credible analytics and as well as responsive reporting for traffic analyzing, segmentation, visitor tracking, navigation analysis, etc. we give the best ever insights of what your customers are dealing with your website. Sanbrains by providing website development in Hyderabad, and uses responsive approach to make your site more attractive. Here we also suggest customization of your theme and modules of your e-commerce website based on your business requirement.
Read More
BEST DESIGN
Web Design begins with a clear communication and the requirement of your target audience. It continues with the prototyping and testing till your needs are fulfilled. Final design will be a silent brand ambassador of your products.
BEST CODE
We create extremely well engineered websites with an instinctive, attractive, and conversion focused techniques. Our Lead Engineers will create a portfolio of your project to provide scalability support in the long run.
Who we are
A few words about our team
SanBrains Digital Marketing Agency in Hyderabad focuses in providing comprehensive web development services for your Internet projects. We are expertise in offering E-commerce solutions, CMS, WordPress, Drupal, Intranets or Extranets, Facebook Applications, Email Marketing Solutions, and also PHP and JS Development.
This team of experts and strategic minds helped us to increase sales for my E-commerce business. They work on each and every need for our business growth as they are known to keep their promises.
- T. Giri Babu -
SanBrains is a much-needed blessing and helped us to our business in every way. They have exceeded our expectations and worked for our business like their own. They are the true gems and we love to have a long-lasting and prosperous relationship. 
- Keshav Sanam -
It's the most pleasant experience to work with a team of creative brains. SanBrains helped me with our website redesign which now looks so appealing and amazing. I am so impressed with their dedication and teamwork.
- Sridevi Jasti -