READY TO GET STARTED?
Curiosity is a call from knowledge.
SEO Services in Hyderabad
Ranking at the top places in the search engines would be a great success to boost any online business. To convert the visitors into the customers and to generate targeted traffic, SEO services help you to enhance the prospect of increasing the website's visibility. With our innovative SEO strategies, we serve every client with a unique approach and help you with the revenue increments.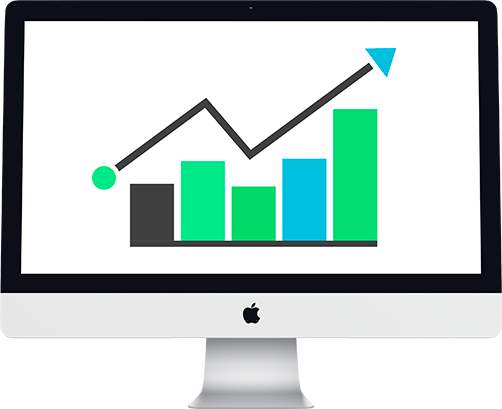 Our propositions are:
On-page SEO optimization

SEO friendly content development 

Conversion optimization

Building strong links

Local SEO

E-commerce SEO
Get Traffic, Leads, Sales and Boost Your Business With Our Best SEO services in Hyderabad
Every business, irrespective of size needs some kind of internet exposure to reach out to potential customers and leads. One simple way to increase your brand visibility is through search engine optimization. Although there are various ways that help in promoting your business but nothing can replace the power of SEO. Best SEO services in Hyderabad boost business growth and help in fetching high ROI. Let us find out how the best SEO company in Hyderabad can help you get the desired rank on the SERP.
We are a digital marketing agency in Hyderabad that offers all types of services that fall under the umbrella of digital marketing. Let us find out how our best SEO services in Hyderabad can help you grow in the long run-
It lets you drive relevant and organic search traffic to your website
It improves brand visibility on the internet
We attract visit with our top-notch SEO services in Hyderabad
Having a well-designed website is not enough, there are many other factors that need to be work on to improve the ranking. We provide the best SEO services in Hyderabad by writing content that not only appeals to the readers but also the search engine spiders. We work on improving your website's structure and content that impact your business growth in terms of leads and sales with our effective digital marketing services in Hyderabad.
What is SEO and how it works?
Hire the best SEO company in Hyderabad to get customized and the best SEO services in Hyderabad for your business. SEO agency in Hyderabad follows a set of practices that promote website visibility on the search engine result page for relevant keywords and bring customers into sale funnel. It is the art of improving website rank on SERP through relevant keywords. When a user searches for something by typing a word or sentence in the search engine, he/she gets a collection of websites related to that query. Being the Best SEO company in Hyderabad, we understand very well how a search engine works to decide the ranking of the pages.  Along with this, we also provide PPC services in Hyderabad. Now, let us understand how search engine crawlers get data to build an index of information.
Search engines have three primary functions:
Crawl: Scour the Internet for the updated content by finding the code/content for each URL they find.
Index: Store and organize the updated content found during the crawling process. After indexing, the page starts appearing as a result of relevant queries.
Rank: Show the pieces of content containing the best answer to a searcher's query, ordered by most relevant to least relevant.
Important factors of SEO that is focused by the SEO agency in Hyderabad are:
There are two important factors considered by Google and other search engines; the Onpage and Offpage SEO. Also, there are more than 200 criteria that Google considers to determine the rank of a website for a specific search query or search term which every SEO agency in Hyderabad needs to focus on. Let us find out what are the onpage and off-page SEO strategies followed by the best SEO company in Hyderabad and how they are different from each other.
Onpage SEO services in Hyderabad
For on-page best SEO services in Hyderabad, we have to focus on the design, functionality, and navigation of the website for better user experience. A lot of things come under on-page SEO optimization and some of them are:
Keywords: Keywords are decided by the best SEO company in Hyderabad even before starting the website development. Because if you have relevant keywords, you can easily frame headings and content by using it on the website. 
Content: The best SEO agency in Hyderabad stresses highly engaging content that leads to higher chances for the website to grab the top position on the first page of Google search results.
Page Titles:  A relevant page title is easy understandable for both the search engines and readers. We provide the best SEO services in Hyderabad and our content writing team make sure to use relevant and best performing keywords for appealing webpage title.
Meta Description: Meta Description acts as an advertised content that lets users understand about webpage's services. We improve the conversion and CTA by offering the best SEO services in Hyderabad.
Meta Tags: Meta tags make websites more functional and improve SEO performance as well.
URL Structure: User-friendly URLs are easy to understand for search engines both.  The best SEO agency in Hyderabad uses the primary keyword in the URL and avoid using underscores (_). A well-written URL rank well in search engines for the relevant search terms.
Headings: The best SEO company in Hyderabad make use of primary and other main keywords to frame headings and follow the hierarchy of the headings tags. Google pays attention to a total of six headings (H1 to H6) while ranking the website.
Image Optimization: The SEO services company in Hyderabad makes sure to use relevant and appropriate size images along with Alt tag and caption for it. Being the best SEO services company in Hyderabad, we use high quality and compressed images without disturbing the look of the website.
These were some of the factors that are considered by Sanbrains, the best SEO company in Hyderabad during on-page optimization to get the best ranking for the website.
Off-Page SEO services in Hyderabad
For Off-page best SEO services in Hyderabad, we work to build high-quality backlinks from other websites. Here are the activities that an SEO agency in Hyderabad considers in its worklist to generate high quality and authority backlinks pointing towards your website.
Directory submission
Social bookmarking
Business listings
Blog commenting
Forum marketing
Image submission
Article submission
Blog submission
Guest blogging
Press release
Doc and PPT submission
Video submission
Link building
Web 2.0 submissions
If you are looking for the best SEO company in Hyderabad, Sanbrains can be the best option to go with. It has a wonderful team that works hard in order to boost the business of clients through the best SEO services in Hyderabad.
We are one of the leading social media marketing companies in Hyderabad that offer all types of services under the umbrella of digital marketing. In this digital era, traditional methods are not sufficient to grow your business, support of SEO services in Hyderabad is necessary. You need to take help of digital marketing services from the best SEO agency in Hyderabad to reach your potential customers and gain high ROI.
To increase the brand value of the business, there are many factors that need to be work on by the best SEO company in Hyderabad. First, the website should look nice and provide valid information regarding services/products. We have a team of website developers in Hyderabad that gives an outstanding look to your website and make visitors go through it. Website should look attractive and at the same time should provide all the needed data that a visitor may looking for.
Our web designers in Hyderabad make the website look attractive and the content writing team provides the needed information in a creative way. In this way, we offer SEO services in Hyderabad where all team members work hard in their respective fields to bring out the best result required by our client.
Read More
Testimonials and clients
Promises, we keep. Success, they enjoy. 
This team of experts and strategic minds helped us to increase sales for my E-commerce business. They work on each and every need for our business growth as they are known to keep their promises.
SanBrains is a much-needed blessing and helped us to our business in every way. They have exceeded our expectations and worked for our business like their own. They are the true gems and we love to have a long-lasting and prosperous relationship.